Gardening is a timeless hobby that brings joy and relaxation to people of all ages. If you're a gardener looking for fresh and inventive ways to enhance your outdoor oasis, you're in the right place. We've compiled 20 brilliant DIY bottle garden ideas that will not only elevate your garden but also allow you to upcycle and repurpose glass bottles effectively.
---
---
1. Glass Bottle Pathway: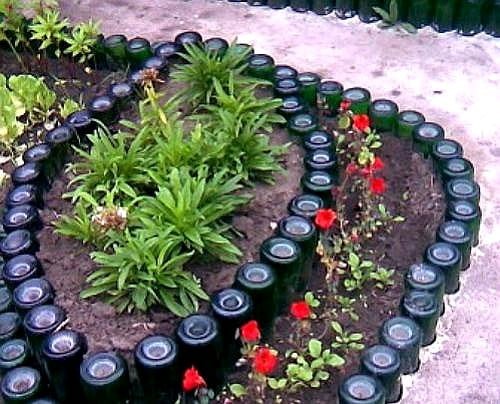 Create a charming garden pathway by burying glass bottles halfway into the ground. They catch the sunlight during the day and glow softly at night.
2. Vertical Bottle Planters:
Hang bottles vertically along a wall or fence to grow herbs or small flowers. It's a space-saving and visually appealing solution.
3. Bottle Terrariums:
Craft mini ecosystems in glass bottles. These low-maintenance terrariums are perfect for succulents, air plants, or moss.
---
---
4. Bottle Tree Sculpture:
Arrange colorful bottles on metal stakes to fashion a whimsical bottle tree that adds character to your garden.
5. Bird Feeder Bottles:
Convert bottles into bird feeders by attaching a feeding tube. Watch the avian visitors from your garden bench.
6. Bottle Wind Chimes:
String bottles together with twine to create delightful wind chimes that produce soothing sounds in the breeze. Get details here.
7. Herb Garden in Bottles:
Grow herbs like basil, rosemary, and mint in glass bottles placed on a sunny windowsill or in your garden. Click here for more information.
8. Bottle Watering System:
Craft a DIY drip irrigation system by inverting bottles filled with water into the soil near your plants. It ensures consistent watering. Click here for more information.
9. Bottle Candle Holders: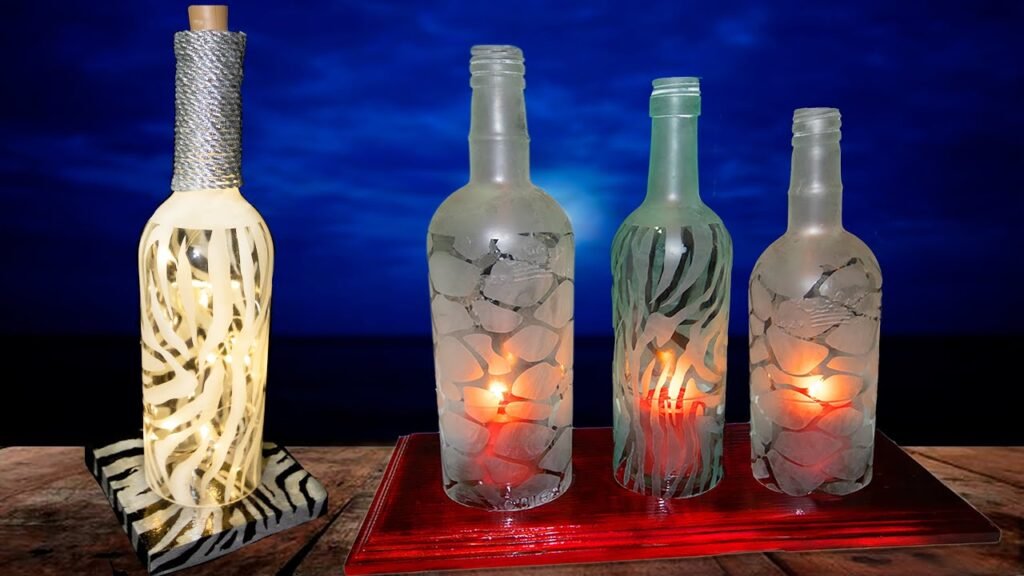 Enhance the ambiance of your garden with bottle candle holders. Insert candles in empty bottles and place them strategically.
10. Bottle Garden Art:
Paint and decorate bottles to create stunning garden art. Display them on stakes or hang them from trees.
11. Bottle Greenhouse:
Construct a mini greenhouse by arranging bottles in a circular shape. It's an excellent way to protect delicate plants.
---
---
12. Bottle Fountain:
Turn bottles into a unique water feature by stacking them and allowing water to cascade gently. Click here for more information.
13. Bottle Lanterns:
Insert solar-powered LED lights into bottles for an enchanting evening glow in your garden. Click here For how to make this.
14. Bottle Plant Markers:
Label your plants with elegance by using bottle caps as markers. Simply write the plant names and stick them into the soil. Details here.
15. Bottle Vases:
Use bottles as vases for freshly cut flowers from your garden. They make beautiful and rustic centerpieces
16. Bottle Butterfly Feeder:
Attract butterflies by filling bottles with a sweet nectar solution and placing them in your garden.
17. Bottle Rain Chain: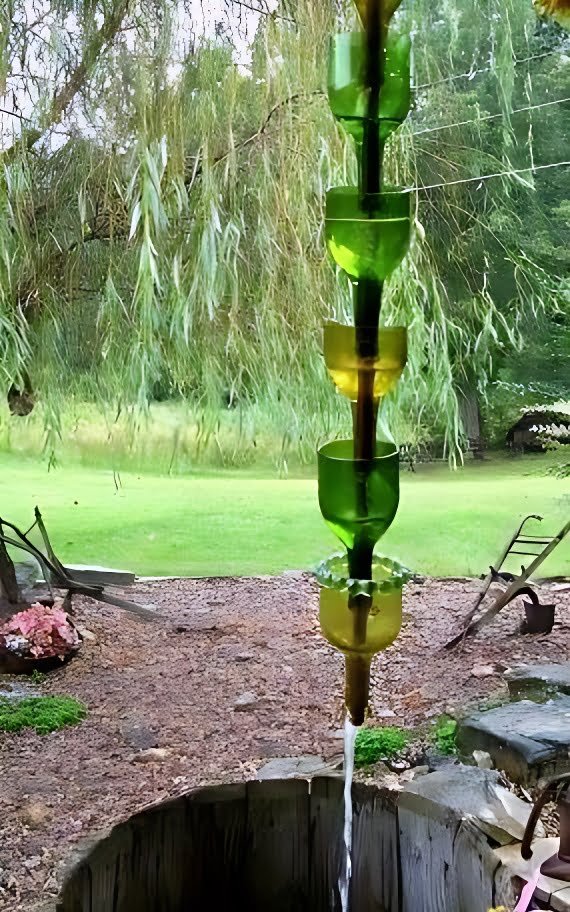 Replace traditional rain chains with glass bottles to create a captivating rainwater diversion system.
18. Bottle Sculpture:
Create stunning sculptures by stacking and arranging bottles in imaginative ways. It's a unique form of garden art. For details click here.
19. Bottle Trellis:
Build a bottle trellis for climbing plants like beans or morning glories. It's an eye-catching and eco-friendly support system.
20. Bottle Edging:
Line your flowerbeds with bottles for an artistic and colorful garden border. Details here.
These 20 brilliant DIY bottle garden ideas offer endless possibilities for gardeners infuse creativity and sustainability into their gardening endeavors. So, roll up your sleeves, gather some glass bottles, and let your garden thrive with these innovative projects. Your green space will thank you, and you'll enjoy the satisfaction of turning everyday items into garden treasures. Happy gardening!